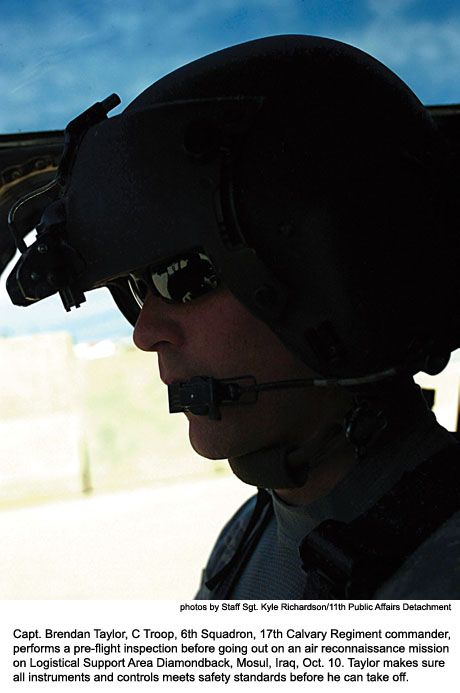 MOSUL, Iraq — The methodical sounds created by the propellers of an OH-58 Kiowa Warrior helicopter calms the aviators as they fly over Mosul in support of coalition force ground assets.
The airspace over Mosul is patrolled and protected by the aviators of 6th Squadron, 17th Calvary Regiment, who deployed Aug. 24 from Fort Wainwright to replace the 4th Squadron, 6th Air Calvary Regiment, based at Fort Lewis, Wash.
The 6-17th underwent a drastic change in climate in May 2006 as the unit was moved from Wheeler Army Air Field, Hawaii, to Alaska, said Nick Snelson, Task Force Saber and 6-17th commander.
"With only a handful of aircraft and 125 personnel for the total organization, the unit moved from Hawaii to Alaska and spent two years building up and getting ready for this deployment," Snelson said. "There was a lot of work invested in standing the unit up by the previous commander and by some of the Soldiers currently deployed here today."
While possibly serving a 12-month deployment, the primary mission of the 6-17th is to support the ground troops in the Nineva and Kirkuk province.
"We add the third dimension element," Snelson said. "We're up overhead, and we see can the big picture."
"Our role as aviators is to be the eyes in the sky" said Capt. Keelan McNulty, UH-60 aviator and future commander of Black Hawk Troop, 6-17th. "It's a pretty important role; we provide the necessary cover for the ground guys to meet mission success without worrying more than they have too about the enemy sneaking up on them."
Carrying the honor and pride of their unit, the aviators of the 6-17th take on the risks of their job diligently, said 1st Lt. Melissa Vu, executive officer for A Troop, 6-17th.
"We're here for situational awareness," Vu said. "It's an honor. I just want to do my part."
Vu is currently the only female pilot in the 6-17th.
Snelson said the 6-17th provides aerial support seven days a week, and with the constant call of duty, his unit flew more hours within the first six weeks of their deployment than one year of flying in Alaska.
"It's my honor and privilege to be able to replicate the amount of service and sacrifices that have passed and what is to come," said Command Sgt. Maj. Scott Bailey, 6-17th. "I'm just so proud that I'm able to do my part and watch the Soldiers on a day-to-day basis do their jobs. It's an incredibly inspiring thing to watch."
As vital as aerial reconnaissance is, the increased flying creates greater stress on the helicopter, making maintenance more important.
"I'm like a third co-pilot in the helicopter for these guys," said Pfc. Jerry Davis, 6-17th aviation operations specialist.
"Our unit is essential to the Mosul area as far as aerial reconnaissance and supporting the ground elements," said Staff Sgt. Shawn Keelty, 6-17th aviation component repair supervisor. "Therefore my role is vital, because me and the other NCOs have to make sure the helicopters and anything aviation passes the standard of safety for these pilots to go out there and fly every day."