TROPIC FLASHES
196th Lt Inf Bde
Brig. Gen. R. Knowles, CO
Capt. M. Randall, IO
"Chargers"
After having completed 25 missions over hostile territory, two artillery lieutenants of the 196th Lt Bde have been awarded the Air Crewman Wings.
Receiving the awards were 1st Lt. Richard H. Jackson of Newport, Me., and 2nd Lt. Michael Moseley of Moorestown, N.J. Both officers are the first members of the 3rd Bn, 82nd Arty.
The lieutenants flew as forward artillery observers for the "Flying Red Horsemen," completing most of their missions during Operation Attleboro.
2nd Lt. Adrian J. Sipple became the first man in the 196th to receive a direct commission while serving in Vietnam. 196th commander, Brig. Gen. Richard T. Knowles, recently pinned the gold bars on the former WO helicopter pilot.
Capt. Michael T. Raune of Jersey City, N.J., assumed command of Co C, 4th Bn, 31st Inf, from outgoing Capt. Alfonso Izzi in a recent ceremony at company headquarters. Before assuming command of the "Polar Bear" company Capt. Raune served as S-3 (Air) with HHC, 3rd Bn, 21st Inf.
Capt. Raune's first official business as new company commander was to swear in four enlisted men who reenlisted for a combined total of 17 years.
Capt. Izzi has assumed duties as assistant brigade S-4.
Co A, 3rd Bn, 21st Inf, opened the doors of its new' enlisted men's club recently. Capt. Emil Gregg of Hazelton, Pa., Co A's commanding officer, officially cut the ribbon.
A four-speaker stereo system provided the sounds as the men forgot the war for a while around the tables or relaxed on the sofas and lounge chairs in the TV room.
Meanwhile, Troop F, 17th Cav, opened the doors of its elaborate new NCO club recently. The grand opening featured free steaks and beer, with music provided by a six-piece band from the Philippine Civic Action Group.
The new club features a 26 foot mahogany bar, while a red brick veneer adds a touch of class to the outside. Troop F cavalrymen especially enjoy the club's patio with its swaying palms.
How well is the new club doing? SSgt. Elmer Quist of Colorado Springs, Colo., says, "I wish I had a business like this back in the States."
--------------------------------------------------------------------------------
Vol 2 No. 8 TROPIC LIGHTNING NEWS February 27, 1967
--------------------------------------------------------------------------------
Index
Unit Page Unit Page Unit Page Unit Page
1/5 1 196th LRRP 1 25th LRRP 8 48th Scout Dog 7
1/5 6 196th Supply Point 6 25th Sup. Com. 3 65th Engr 6
1/5 7 2/1 Photo 1 25th S&T 3 65th Engr 8
1/14 3 2/1 6 3/4 Cav 8 725th Maint 3
1/27 7 2/14 7 3/21 Photo 7 Chieu Hoi 2
1/27 8 2/27 3 4/23 3 Civic Action 2
1/35 1 2/27 7 4/23 3 Hoa Hao 2
12th Evac 7 2/27 8 4/23 7 John Steinbeck 3
17th Cav 7 2/34 Armor 8 4/31 7 Nancy Sinatra 8
175th Engr 6 25th Med. Bn. 3 44th EOD 6 Oper. Gadsden 3
196th Lt. Inf. 1
25th Destroys Another VC Base Camp
BURNED OUT - A radio operator of Co. A, 2nd Bn,, 1st Inf., watches the wreckage of a Viet Cong hut smoldering during Operation "Gadsden." The hut was part of a Viet Cong Base Camp found in War Zone C. (Photo by Sp4 Robert Brown)
Mechanized Unit Kills 6 Viet Cong in Fight
Elements of the 25th Inf. Div. were credited with killing six Viet Cong and destroying an enemy base camp last week during Operation 'Gadsden' in Tay Ninh Province.
The enemy base camp was found about 20 miles northwest of Tay Ninh City in the dense jungles of War Zone C, near the Cambodian border.
A "Tropic Lightning" mechanized infantry unit, attached to the 196th Lt. Inf. Bde., destroyed 10 Viet Cong structures and captured two individual weapons, 500 rounds of small arms ammunition and 20 pounds of documents. Friendly casualties were reported as light.
Participating in Operation Gadsden are units of the 25th Inf. Div., 196th Lt. Inf. Bde., and the 3rd Bde., 4th Inf. Div. Three Viet Cong were killed during sporadic fire fights 15 miles northwest of Tay Ninh City. Two more were killed by artillery fire in Binh Duong province 7 miles northwest of Saigon.
A mechanized unit attached to the 196th Lt. Inf. Bde. discovered a fresh grave with the body of one VC while on patrol through the dense jungle surrounding Tay Ninh City. The enemy was killed by the infantrymen in a firefight several days before.
The grave was located in a thick woodline near the opening of a trail that the mechanized unit had stopped to investigate earlier in the day.
Another mechanized infantry unit attached to the 3rd Bde., 4th Inf. Div., at Dau Tieng killed two more Viet Cong when a recon element spotted five enemy soldiers hiding in the dense undergrowth near a natural clearing. The mechanized units had halted for the night in the clearing, and the VC were attempting to infiltrate their position at 9:30 p.m. when they were spotted and routed with .50 caliber machinegun fire. The other three fled into the darkness.
An additional 11 Viet Cong killed by the 25th Inf. Div. were reported at the week's end. Overall friendly casualties for the entire week were considered very light.
New 196th Recon Patrol Scores
The six men in camouflaged fatigues and floppy hats stared excitedly as artillery rounds crashed into the jungle before them. Just minutes before they had been in that same jungle. Now they were out safe, and they wondered how Charlie was faring amidst the artillery-torn trees and brush.
It had been a successful night ambush for the 196th Lt. Inf. Bde.'s newly formed Long Range Reconnaissance Patrol. Their uncontrollable pride belied their modesty later, as they told of how they notched the patrol's first VC kill.
"We were about 50 yards from the woodline when I called a security halt." said Sgt. Anthony Mazzucchi of Blackwater. N.Y., the patrol leader. "I sent SP4 Richard Bologna of Buffalo, N.Y., back to check on our rear element."
Specialist Bologna talked with PFC Caro Velleri of Buffalo. N.Y., the assistant patrol leader, who was rear guard security. PFC Velleri said he heard movement to his rear. Sgt. Mazzucchi called the information back to headquarters, then got orders to move on.
At the woodline, Sgt. Mazzuchi left PFC Velleri and another man at its edge while he and the others searched for an opening which would allow them into the thick brush. The sound of movement PFC Vefleri had heard still trailed them.
Once inside the woodline, the patrol set up a hasty ambush and waited for their pursuers. Minutes passed and soon there was movement, but not from the direction they had anticipated.
Coming up along another path were three VC. The patrol waited, then opened up with their M-16's, Sgt. Mazzucchi and Specialist Bologna both tossing hand grenades at the surprised Cong. One VC was killed instantly.
Other groans could be heard as the patrol got up and moved back out to the clearing. A quick check by Sgt. Mazzucchi revealed that none of his men had been hit. Safe in the small defensive perimeter in the clearing, the patrol leader called in artillery on the VC.
Decorated
SILVER STAR

PFC Dale W. Flickinger, CO. C, 3rd Bn., 21st Inf.


BRONZE STAR MEDAL (VALOR)

Capt. James Thompson, HHC, 196th Lt. Inf. Bde.
2nd Lt. James G. Mikesell, Co. C, 3rd Bn., 21st Inf.
PSgt. Leslie T. Miles, Co. C, 3rd Bn., 21st Inf.
PSgt. Robert F. Stairwalt, Co. D, 4th Bn.. 31st Inf
Sgt Monroe C. Griffin, Co. C, 2nd Bn., 1st Inf..
Sp4 Victor J. Bey, Co. B. 2nd Bn., 1st Inf.
Sp4 William K. Commins, Co. B, 2nd Bn., 1st. Inf.

Sp4 Gary Scothon, Co. C, 3rd Bn., 21st Inf.
Sp4 Napoleon Tabora, Co. A, 2nd Bn., lst Inf.
Sp4 Barry W. Wood, Co C, 2nd 13n., 1st Inf.
PFC David L. Csrlson, HHC, 2nd Bn., 1st. Inf.
PFC Ronald C. Douglas, Co. C, 3rd Bn., 21st Inf.
PFC Robert T. Turner. Co. A, 2nd Bn., 1st Inf.


ARMY COMMENDATION MEDAL (VALOR)

Sp4 Johnny B. Brownstead, Co. C, 3rd Rn., 21st Inf.
Sp4 John B. Fezi, Co. C, 3rd Bn., 21st Inf.

PFC Harry A. Mullaney, Co. C, 3rd Bn., 21st Inf.


PURPLE HEART

1st. Lt. Ronald B. Mattioli. Trp. F, 17th Cav.
PSgt. Edward C. Hensley, HHC, 196th Lt. Inf. Bde.
SSgt. Larry B. Acton. Co. B, 4th Bn., 31st Inf.
SSgt. Robert. D. Balser, Co. B, 2nd Bn., lst Inf.
SSgt. David D. Cornileus. Co. A, 2nd Bn., 1st Inf.
SSgt. Roosevelt Cook. 175th Engr. Co.
SSgt. Garland P. Felton, Co. B. 2nd Bn., lst Inf.

F Trp. Helps 'Forces' Unit

The 3,200-foot "Black Virgin" Mountain near Tay Ninh has long been a Viet Cong stronghold. The slopes are honeycombed with caves and tunnels.
One of the 196th Lt. Inf. Bde.'s units, Trp. F. 17th Cav., was recently given the mission of supporting a Special Forces assault on the Viet Cong's mountain positions. As the troop moved dawn a road near the base of the mountain, heavy small arms and 57mm recoilless rifle fire raked the patrol. The troop immediately returned fire with its 106mm recoilless rifles and wiped out the VC ambush positions.
The Special Forces commander on the other side of the mountain then called on Trp. F's recoilless rifles for fire support on VC cave positions. The troop's commander, Capt. Clyde W. Roan, of Daytona Beach, Fla., and 1st Lt. Ronald B. Mattioli of Charleston, S.C., platoon leader, led a small security force five miles down an enemy-controlled road to assist the Special Forces elements there.
The 106's spit deadly fire, destroying two VC bunkers. The Viet Cong then unleashed a barrage of mortar and small arms fire on the cavalrymen. During this time Capt. Roan and Lt. Mattioli constantly exposed themselves to enemy fire to complete the mission and enable the Special Forces detachment to continue its operation

SSgt. Leopold O. Griffith, Co. B, 4th Bn., 31st Inf.
SSgt.. Stoeberl Hehmut, Co. R, 4th Bn., 31st. Inf.
SSgt. Adron L. Jennings, Co B, 2nd Bn., 1st Inf.
SSgt. George M. Lyons, Co. B, 3rd Bn., 21st Inf.
SSgt. Joseph W. McCulloch, Trp. F, 17th Cav.
SSgt. Ralph E. Roach, Co. B, 2nd Bn., 1st I
F Trp. Looks for Mortar Positions
Trp. F, 17th Cav., has provided the 196th Lt. Inf. Bde. base camp with reconnaissance in depth by finding Viet Cong mortar positions on more than one occasion.
Trp. F's second platoon recently was given the assignment of searching and destroying VC mortar positions in the area.
The cavalrymen, working with coordinates supplied by air observation, found numerous; mortar and surrounding foxholes.
Ambush Ends VC Mining Activity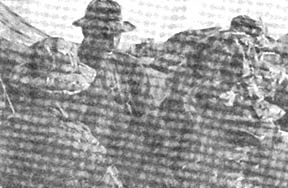 A major problem encountered on combat operations in Vietnam is the almost constant hazard created by Viet Cong mining activities. The use of mines and booby traps by guerrilla forces has proven to be one of their most effective weapons. They are masters in the use of both standard and homemade mines.
The 196th Light Infantry Brigade's Troop F, 17th Cav., responsible for the reconnaissance, clearing, and security of the roads south of the Iron Triangle during Operation "Cedar Falls," found this operation to be no exception.
Charlie had plenty of mines, and from the first day of the operation, made maximum use of this weapon in an attempt to slow down allied movements in the Iron Triangle.
During the operation, Trp. F, disarmed or destroyed many Viet Cong anti-tank mines, but they found that the best way to eliminate the problem was to stop the Viet Cong who were laying the mines before they had a chance to inflict any major damage. There was only one way - ambush.
One such ambush by Trp. F about 200 meters south of the village of Lao Tao Duoi, on a road leading from Route One to the brigade's forward base camp. This seemed to be one of Charlie's favorite areas for laying mines. The patrol, led by 1st Sgt. Billy B. Crowder and Sgt. Gus Johnson, both veterans of the Korean War, moved into the area and began to set up. Before the last claymore could be positioned, a lone Viet Cong moved toward the patrol's position and was shot down. A search team retrieved the dead VC, an M-2 carbine, two grenades of American and Chinese manufacture, and several documents.
The night's work showed positive results. No more mines were found along the route for the remainder of the operation. Allied troops were thereafter able to move faster and with more safety over the route.
| | |
| --- | --- |
| | PARADROPPED - A soldier of the 196th Lt. Inf. Bde. watches as tons of supplies are air-dropped from C-130 aircrafts into their forward area during Operation "Junction City." (Photo By 1st Lt. Ambrosio Sarmiento) |
LRRP, CIDG Hammer at Nui Ba Den

By PFC Mike Heacock
The 196th Lt. Inf. Bde.'s Long Range Reconnaissance Patrol (LRRP) began an ambitious operation on Nui Ba Den Mountain, the "Black Virgin" that dominates the terrain of Tay Ninh Province like a rock pile set on a pool table.
The mountain has been the home of Viet Cong units since the first days of the war. Its many natural and man-made tunnels under the granite blocks that stud the mountainside make it a natural fortification that is almost impregnable to artillery fire and air strikes.
Some of the tunnels are thought to be more like huge caverns, possibly housing whole battalions or regiments of Viet Cong as they pass through the province, with hospitals and arms repair factories hidden deep in the bowels of the mountain.
One tunnel suspected of being a major hideout and storage area for the Cong was recently probed by the LRRP and a Vietnamese Civilian Irregular Defense Group (CIDG) reconnaissance platoon, operating as tunnel rats in four-man teams, with two men from each group working together underground.
After clawing their way up the steep side of the Black Virgin, the LRRP, the CIDG platoon, and two security platoons from the 196th Bde.'s Co. A, 4th Bn., 31st Inf., moved through the bazaar at the Buddhist pagodas, about half-way up the mountain, and then on about 35 meters beyond.
A United States Special Forces "A" team had previously spotted what they believed to be a large complex at this spot, and it wasn't long before the first of the search teams had entered a minute opening under a huge boulder, into a small underground room with many exits.
Going deeper into the mountainside, the search teams were intrigued by arrows painted on the tunnel walls, apparently used by the Viet Cong as road signs. Many large sleeping rooms were discovered, all showing signs of use. But on the third day, the 300-meter tunnel came to a dead end, about 10-meters above the spot where the men had originally entered.
Undaunted, the LRRP and CIDG platoons immediately searched another tunnel, which had been discovered a little further up the mountain. Accompanied by tunnel rats from Co. A's security platoons, the search teams moved cautiously into the second hole and discovered documents, clothing, cooking utensils and small amounts of recently cooked rice and beans. However, this tunnel also proved to be a dead end and the men descended the mountain to join other units in Operation "Junction City."
There are literally hundreds of tunnels used by the Viet Cong on Nui Ba Den, and probably not all will ever be destroyed. But if they can be discovered, charted, searched and mapped, intermittent harassing fire by the artillery, at the entrances to the holes, can make them too dangerous for the VC to use. And repeated "raids" on selected complexes, by units such as the LRRP and CIDG, will finish whatever usefulness they might have retained.
Decorated
SILVER STAR

1st Lt. Bruce G. McDougal, Co. C, 2nd Bn., 27th Inf.
Sp4 Francis L. Lentz, Co. C, 2nd Bn., 1st Inf.

Sp4 William J. Schneider, Co. C, 2nd Bn., 1st Inf.
PFC Dale E. Pollard, Co. A, 2nd Bn., 14th Inf.


BRONZE STAR MEDAL

Maj. Robert L. Roby, HHB, 25th Div. Arty.
Maj. Donald L. Winters, HHD, 25th Avn. Bn.
Capt. George W. Arnau, Hq & Co. A, 25th Med. Bn.
Capt. Walter R. Hayes, Hq. & Co. A, 25th Med. Bn.
Capt. Charles Johnson, HHC, 4th Bn., 9th Inf.
Capt. Vaughn Timberlake, HHB, 25th Div. Arty.
Capt. Marvin Walker, Hq & Co. A, 25th Med. Bn.
1st Lt. Michael Rothstein, HHC, 65th Engr. Bn.
1st Lt. Robert L. Russell, Btry. B, 7th Bn., 11th Arty.
SMaj. John B. McMahan, Hq & Co. A, 25th Med. Bn.

1st Sgt. L. C. Bishop, HHC, 4th Bn. (Mech), 23rd Inf.
1st Sgt. Charles Padgett, Btry. C, 7th Bn., 11th Arty.
1st Sgt. Calvin E. Stanley, HHM, 25th Div. Arty.
SFC Lucius A. Dewberry, HHC, 25th Inf. Div.
PSgt. Willie Hicks, Co. C, 25th Med. Bn.
SFC Wayne Hoffman, Co. E, 725th Maint. Bn.
SFC David Martin, HHC, 25th S&T Bn.
SFC James Raymond, Co. E, 725th Maint. Bn.
SFC Robert Turner, Hq & Co. A, 25th Med. Bn.


ARMY COMMENDATION MEDAL

Sp4 John J. Schmidt, HHC, 2nd Bn., 27th Inf.
Sp4 Ronald G. Smith, HHC, 2nd Bn., 14th Inf.
Sp4 Donald H. Snead, Co. B, 125th Sig. Bn.
Sp4 William Sturdivant, HHC, 2nd Bn., 14th Inf.
Sp4 John T. Thornton, 25th MP Co.
Sp4 Richard L. Wilkins, HHC, 2nd Bn., 27th Inf.
PFC Marion Cole, HHC, 2nd Bn, 14th Inf.
PFC John J. Haslam, HHC, 2nd Bn., 14th Inf.

PFC Larry J. Kralik, HHC, 2nd Bn., 14th Inf.
PFC Kenneth L. Lunsford, HHC, 2nd Bn., 14th Inf.
PFC David Prezenkowski, HHC, 2nd Bn., 14th Inf.
PFC Willis E. Price, HHC, 2nd Bn., 14th Inf.
PFC Dennis Reiss, HHC, 2nd Bn., 14th Inf.
PFC Alvin Shelborne, HHC, 4th Bn., 9th Inf.
PFC Matthew Vuolo, HHC, 2nd Bn., 14th Inf.

PURPLE HEART

Sp5 James T. Murry, Trp. F, 17th Cav.
Cpl. Dennis McKale, Co. D, 2nd Bn., 1st Inf.
Cpl. Earl West, Trp. F, 17th Cav.
Sp4 William Ash, Co. C, 2nd Bn., 1st Inf.
Sp4 Samuel Benavides, Trp. F, 17th Cav.
Sp4 Charles W. Bolton Jr, Co. A, 4th., 31st Inf.
Sp4 William Commins, Co. B, 2nd Bn., 1st Inf.
Sp4 Thomas J. Cox, HHC, 3rd Bn., 21st Inf.
Sp4 Tommy J. Franks, Trp. F, 17th Cav.

Sp4 Darrel M. Green, Co. B, 3rd Bn., 21st Inf.
Sp4 John W. Herron, Co. B, 2nd Bn., 1st Inf.
Sp4 Donald E. Jones, Co. B, 3rd Bn., 21st Inf.
Sp4 Thomas G. Kirk, Co. A, 2nd Bn., 1st Inf.
Sp4 Jerrald K. Lake, Co. C, 2nd Bn., 1st Inf.
Sp4 Frank Spencer, Co. A, 4th Bn., 31st Inf.
Sp4 Paul R. Storer, Co. B, 2nd Bn., 1st Inf.
Sp4 Franklin T. Williams, Co. B, 2nd Bn., 1st Inf.
PFC Sammy Allen, Co. C, 2nd Bn., 1st Inf.
Plenty Action In Wrecker's Routine Work

Operating a five-ton wrecker may not seem to be the most thrilling job a soldier could have, but in Vietnam there is thrill and danger in almost any occupation.
A wrecker's job is one of several occupations which require readiness on a 24-hour basis. He may be called at some odd hour to rescue a truck carrying high explosives trapped in mud up to the fenders. Or he may start out to haul in a truck badly mangled by a hidden road mine, and end up being blown off the road himself.
These are just a few of the hazards the three wrecking crews of Co. B, 8th Supt. Bn., 196th Lt. Inf. Bde., must face day by day. Headed by WO Henry F. Lens of New Britain, Conn., the company's service and recovery leader, the wreckers recover everything from the common jeep to a downed helicopter. They also have an area of responsibility covering the roads between Tay Ninh and Cu Chi, and in the opposite direction clear to the Cambodian border.
On assignments that take the wreckers far out, the drivers are usually given a jeep escort from the brigade's Trp. F, 17th Cav. "There are times, though, when an escort is not possible," commented WO Lenz. "I remember one call that came at noon. At that time we had difficulty getting an escort. We had to go quite a distance, so I gathered up a few of the men, including two welders and a sewing machine operator, and with our M-16s we went along as security."
196th Joins Marines At New Home in North

The 196th Lt. Infantry Brigade recently completed an airlift to their new home at Chu Lai Marine Base.
The brigade, under the command of Brig. Gen. Richard Knowles, began the airlift on April 10 to the area 375 miles northeast of Saigon. The 196th will operate under control of Maj. Gen. H. Nickerson, commander of the 1st Marine Division.
Military spokesmen said the brigade would primarily protect the revolutionary development program in troubled Quang Tri and Quang Ngai provinces, freeing the Marines for direct combat with the new threat arising from the north. This program of developing rural areas has been a favorite target of the Communists.
The 196th soldiers are veterans of jungle fighting in War Zone C near the Cambodian border. It was in this area they inflicted some of the heaviest losses of the war on the North Vietnamese and Viet Cong.
An Army spokesman said the 196th joined two U.S. Marine divisions and approximately two and one-half Vietnamese government divisions in combating the rising guerrilla activity near the northern frontier.